Music Ministeries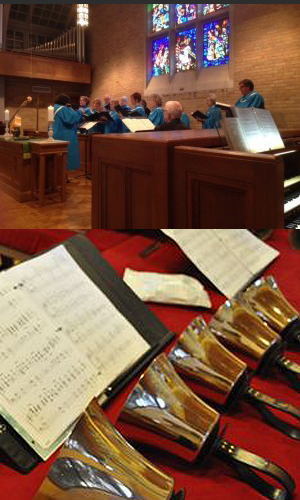 Music is an important part of worship at Graystone as reflected by the following ministries:
Chancel Choir – The Chancel Choir consists of high school students and adults. They sing in the Sunday morning service from August-May of each year taking off in the summer. The Chancel Choir also sings during special services around Advent and Lent. Anyone who loves to sing is encouraged to participate. Rehearsals are on Sundays, immediately following worship.
Graystone Ringers – Our handbell choir meets on Wednesday evenings at 6:30 p.m. for rehearsals. The Ringers play in worship and special services several times during the year. If interested, please contact Kathy Tallent.
Children and Youth – Throughout the year, our children and youth participate in the worship service and special programs.

Kathy Tallent serves as our Director of Music Ministry. She directs the Chancel Choir and the Graystone Ringers. Colleen Ferron is our organist. (We are very proud of Graystone's pipe organ.) We are blessed to have Sam Maples, bassist, and Rachel Acuff Ribble, pianist, who participate in our weekly services. Mrs. Ribble also assists with the Children and Youth music.